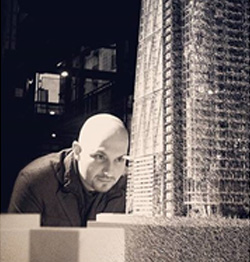 Basel Al-Attar was born on 11 June 1973 in Damascus, Syria. Basel studied Architecture in the college of Architecture of Damascus, and graduated in 1997 with spectacular vision.
After graduation, he opened his own small office in Damascus in 1997, just 12 days after the graduation. Then this small office became a firm in 2000 called Futurism Design.
After huge success and making well-known landmark projects, not only in Damascus, but also many other cities in Syria, then in 2005 his work started spreading throughout the Arab world.
This was a big step for him that made his confidence rise to give him the bravery to exceed the limits and pass the borders of the Arab world to reach all foreign countries. His work started spreading world-wide in 2008. After a while he went to London to expand his work, and indeed he opened an office in London in 2010. That took him efforts and boldness to reach there. It was his dream to show that with keen persistence anyone can do what they believed in.
Three years later he opened another office in Dubai in 2013, which is the center of the modern world of technology and architecture. He felt proud of what he had achieved, reaching Dubai and being able to complete with many of the great architects.
He still believes until today that there are many things left to do. No stop. No limit.
It is all about the future we are looking for.